I would like to thank Deb for making these lasting tributes for my "babies".
You're the BEST!!
They will both live on forever in my heart.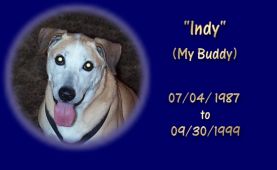 ---

Welcome To:

Glen's Homepage
for
Disabled Veterans Benefits

Glen

---

At this site I plan to provide information to disabled veterans which will allow them to make better informed decisions on issues which affect their benefits.
Information included here will be links for such places as VA benefits, legislation pertaining to veterans issues, how to obtain representation for VA benefits claims processing, and any other information I feel would be useful to disabled veterans and others.
(Social Security Disability for example)
Below you will also find links to various sites pertaining to Lupus and other Anti-Nuclear Antibodies (A.N.A.) diseases.
There is also information concerning Fibromyalgia
If you have, or know anyone who has, an A.N.A. disease PLEASE check out the Lupus Awareness Quilt pages.
---

IMPORTANT INFORMATION:

Any sight impaired visitors who have any difficulties accessing my pages.. PLEASE write and let me know.

I want to try to have my pages accessible to all who visit (Disabled Veterans and those that are not disabled or veterans).

Any suggestions to make my pages accessible to ALL will be considered.

Thank you!!!
---
My VA Story
Let me start by telling a little about myself.
I am a 47 year old disabled veteran of the U.S. Air Force (1981-92).
I first encountered severe low back pain in 1990.
After several months of the typical military medical red tape I finally got an appointment with a specialist.
He examined me and ordered an MRI which helped him diagnose accelerated/advanced degenerative disk disease in my lower back, L3/4 through L5/S1.
I was discharged in July 1992 as part of the military drawdown. I received a separation pay as a result of being discharged. Prior to discharge I applied for disability compensation with the VA.
Once out of the military the VA scheduled me for a compensation exam. After nearly a year of more red tape, exams, etc. I was found to be only 10% service-connected disabled.
Along with the rating was a letter explaining that due to receiving the separation pay I was not entitled to disability compensation.
I immediately appealed this decision.
In August 1995 my rating was increased to 40% disabled due to an aggravation of my condition.
As a result of the aggravated condition, I have been unable to work at any occupation since December 1995.
I applied for and was eventually approved for Social Security Disability.
Social Security found that there is no occupation in the national workforce that I am able to perform due to my disability.
I again appealed my current VA rating and also added an application for 100% disability due to unemployability. This was done in December 1996.
After nearly a year I have heard nothing from the VA.
Recently they told me that there is NO time limit in deciding appealed cases which tells me they can work on it, or not work on it, whenever they want.
With what the VA has put me through is the main purpose for my creating this page.
I would like to try to help other disabled veterans to hopefully avoid some of the bureaucratic nonsense I have been subjected to.
If you are in a similar situation as I, or know someone in a similar situation, please feel free to write me at the address below or put a note in my guest book.
I check both (when the health allows me to).
Also, if you know of other disabled veterans sites, pass along the address and I will try to visit.
I plan to update this site as time (and health) permits.
Any suggestions on how to improve this page, or questions in general, can be directed to the address below.
Thank you for visiting my page and don't forget to PLEASE sign my guest book....
UPDATE
As of December 1997 my service connected disabilities were increased to a total of 70% combined rating.
I was also granted a 100% rating due to unemployability which I suppose is a mixed blessing.
I would much rather be healthy enough to work, but since I am not at least the VA is finally acknowledging that fact and compensating me accordingly.
So.. for all you disabled veterans out there still fighting for compensation... DO NOT give up.

It can and will happen for you, but may take some time.
Make sure you have good representation.
Make sure you have complete and detailed medical records.
I don't know if I would have ever received the benefits I am entitled to, at least this soon, without the assistance of the DAV.
UPDATE as of January 2002
After several years of fighting the VA.. and with the hard work of my DAV Representative.. I finally was awarded 100% Permanent and Total disability.
Everyone reading this.. PLEASE do not give up on your claims for benefits.
Good things CAN happen.. if we continue to fight for what we are entitled to.
UPDATE as of November 2002
Any and all disabled veterans who are homeowners... check with your county auditor for a possible disabled veterans property tax exemption.
In my state you can qualify for either a $6000 or a $12000 exemption (Or BOTH) depending on what tax code the VA gives you.
This tax code is determined by your disability rating and when/how long you served in the military (during war time or not)
So check with your county auditor and see if you may qualify for this exemption.
If you are also drawing Social Security Disability, see if your county has a disabled exemption also.
This exemption is primarily for those individuals who qualify for Social Security Disability.
You do not need to be a veteran to get this exemption.
You may also want to check with your utility companies and see if they offer any discounts for disabled veterans.
Some may offer a certain percentage discount for us.
More to follow....

All links on my pages will open to a NEW window.
To return here.. simply close the window that opens when activating a link.


Links to sites for assisting Disabled Veterans:
Concurrent Receipt of Retired Pay & VA Disability Pay
U.S. Code - Title 38 - Veterans Benefits
38 CFR Book B-Adjudication
38 CFR Book C-Schedule for Rating Disabilities

VA Claims Information (Steps To File Claims)
Veterans Benefits Manual
Iraq Veterans Memorial
U.S. Congress E-Mail Addresses
House Committee on Veterans Affairs
Senate Committee on Veterans Affairs

Disabled American Veterans (DAV)
Disabled American Veterans Service Office Directory
Veterans Administration
American Legion
Veterans of Foreign Wars (VFW)
Paralyzed Veterans of America
Site For Disabled Veterans Information
VA Compensation Rates - 12/2009
Historical VA Compensation Rates
Social Security Administration
Social Security Disability Secrets
International Center For Disability Resources
Selective Service "Draft" Information
Veterans Eye Care

Medical Information
My BEST Friend Deb's Personal Story On Fibromyalgia (New)
Fibromyalgia Support Group

Lupus Message Board
My Dedicated Page On Lupus And It's Associated Illnesses

What is Fibromyalgia ??
Letter About Fibromyalgia (To normals)






Banner Page - Links To Friends & Other Sites



To this date there have been
visitors.

View My (Old) Guest Book
**Please do not sign this book - Sign the new one below**
Read my NEW Guest Book!
Sign my NEW Guest Book!

Feel free to mail me at -------> Veterans Info
I will reply as soon as my body allows me to.




This page was last updated on: January 07, 2011